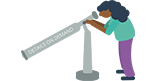 Get an overview of a research topic: knowledge maps provide an instant overview of a topic by showing the main areas at a glance, and documents related to each area. This makes it possible to easily identify useful, pertinent information.

Separate the wheat from the chaff: our AI pipeline clusters similar documents together. This makes it easier to identify relevant content when you are searching for an ambiguous term, or when you would like to identify content from a single discipline in a multidisciplinary field.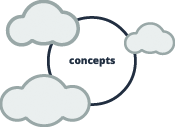 Identify relevant concepts with the help of AI: one of the most difficult tasks when you are new in a research field is to learn the "language" of the field. Open Knowledge Maps makes it easier for you by labelling research areas with relevant concepts.

Find open content: our knowledge maps include both closed and open access documents. However we highlight open access documents - and the majority of those documents can be read from within the interface. And if not, the fulltext is only a click away.