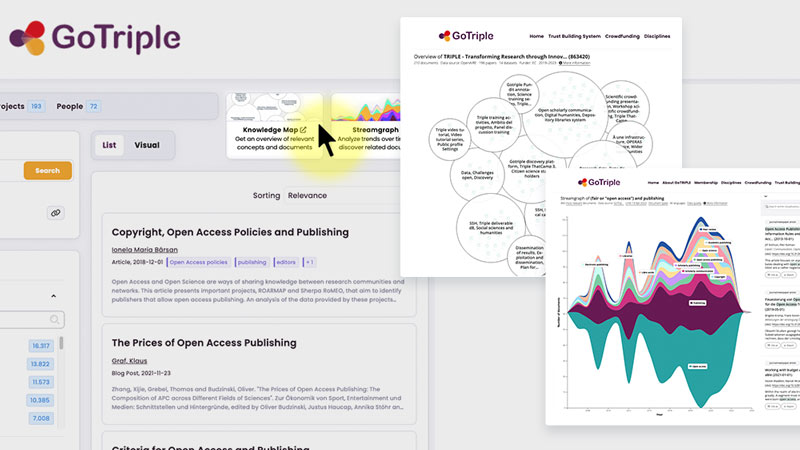 📌 Pinned Post
The GoTriple platform – discover the social sciences and humanities like never before
We are proud to present the GoTriple platform. A result of the TRIPLE project, the GoTriple platform is a free and open discovery solution for the social sciences and humanities (SSH). It provides an innovative way to explore and engage with research in multiple languages across a wide array of disciplines.
In 2019, together with a consortium coordinated by Huma-Num (CNRS), Open Knowledge Maps embarked on the journey of creating this leading-edge discovery platform as a core service of OPERAS and the EOSC. The consortium consisted of 22 partners hailing from 15 EU countries, each bringing a unique perspective to the project.
GoTriple enables the discovery of publications, profiles and research projects via a search engine that is enhanced by a fleet of innovative services. Open Knowledge Maps has been involved in many different aspects of GoTriple, from metadata to platform design and development, training, funding and dissemination. Our main contribution comes in the form of a visual discovery system that complements the list-based interface of the platform.
With the visual discovery system, GoTriple users can either create a knowledge map or a streamgraph for their query. The well-known knowledge map provides an instant overview of a topic by showing the main areas at a glance with relevant research outputs and concepts attached to each area. The novel streamgraph provides an overview of a given topic over time, making it easier to discover trends and gain deeper insight into a specific subject. Both visualisation types were optimised for SSH, in particular catering to the 10+ languages currently covered by GoTriple.
With the visual discovery system, it is also possible to create author maps, which provide an overview of the works of an author. Furthermore, users can generate project maps, enabling them to explore the link between projects, publications and datasets.
Each of these services can be smoothly integrated on their own, tailored to fit the particular needs of any given platform and discipline. This notable outcome of OKMaps' work on the TRIPLE project has come to be known as the Custom Services, a common technical platform for all of the aforementioned integrations. This platform enables institutions to effortlessly integrate our services, designed with easy maintenance in mind.
The Custom Services also open the door to novel project ideas for innovative discovery solutions in other fields. We cannot revolutionise discovery alone - if you are interested in taking a similar journey with us get in touch.
The TRIPLE project demonstrates that at Open Knowledge Maps we seek out creative ways to develop and expand our services. Coming together with like-minded organisations in order to overcome greater problems enables us to broaden our horizons and provide solutions that can be felt on a global scale. In fact, since its launch, the GoTriple platform has already been nominated as the best Digital Humanities tool of the year.
Discover the social sciences and humanities like never before.
Explore GoTriple